Easy to Read – Simple to Use
Discover the most affordable, non-invasive way to continuously monitor patient temperature from pre-op through recovery and beyond.

ACCUTHERM Liquid Crystal Forehead Temperature Trend Indicators effectively monitor across a wide temperature range, displaying eight temperature events for a comprehensive view of clinical temperature indication.

Within seconds of applying the adhesive ACCUTHERM Liquid Crystal Indicator strip to the patient's forehead, the core-adjusted temperature trend is clearly visible. ACCUTHERM liquid crystals provide a highly visible, easy-to-read indication of core body temperature.
Responds within seconds of application.
Clinically proven accuracy within + / - 0.5°F / 0.3°C of esophageal probes.
Reads across a wide temperature range of 92-106°F / 33-41°C.
Precise correlation between Fahrenheit / Celsius scales.
Bright temperature markings and green indicator promote ease of use.
Not made with natural rubber latex, utilizes safety-tested hypoallergenic adhesive. Ideal for even the most sensitive skin.
Order Number
Description
10 - LC08 - 100
ACCUTHERM Liquid Crystal Temperature Indicator
Packaged 100 / Dispenser Box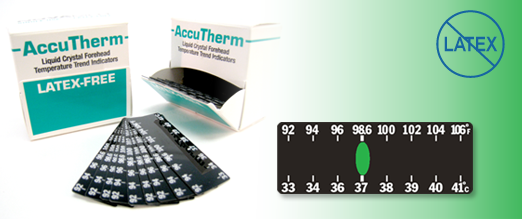 Related Temperature Monitoring Products
Learn more about
NOVAMED USA temperature monitoring products
, to address a variety of clinical applications.
For assistance, please contact NOVAMED USA Customer Service at (800) 425-3535.
Click here for
Product Inquiries
.