Is complete patient access important for your surgical procedures?
Would you prefer to warm your patients without blowing air?
Does the risk of infection from convective air systems concern you?
Are you looking to save money on your OR spend?
DISCOVER THE REUSABLE SOLUTION TO MAINTAIN NORMOTHERMIA
As a specialist in critical care temperature monitoring, NOVAMED USA focuses on new technologies to minimize risk of hypothermia. NOVAMED's KOALA Warming System is the first patented conductive, underbody patient warming utilizing resistive technology promoting normothermia.
KOALA is a two part system consisting of a warming mattress and a controller. KOALA is shown below on a Pre-Op/PACU transport bed and on the OR table.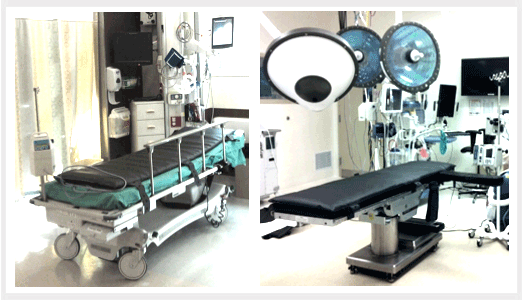 COMPLETE PATIENT ACCESS WITH KOALA WARMING
KOALA's reusable multi-layer mattress straps directly to the OR table to provide an effective transfer of thermal warmth to the patient. It is the ideal warming system for cardiac, transplant, and surgeries requiring complete patient access. KOALA 'invisibly warms' and is SCIP-INF-10 compliant, X-ray and radio translucent.
Consisting of multiple layers, the KOALA mattress includes a patented, conductive carbon polymer that uniformly warms from end to end. KOALA's memory foam layer provides enhanced support to improve patient circulation and pressure relief.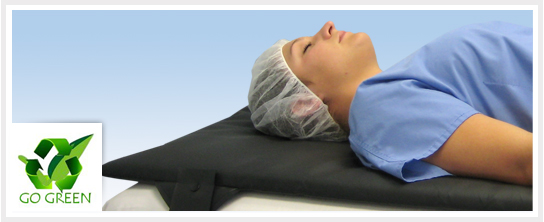 CONCERNED ABOUT BLOWING AIR AND LEAKING WATER?
Reusable and energy efficient, KOALA is a conductive affordable warming alternative to forced air and circulating water. KOALA utilizes conductive warmth, minimizing the risk of infection from airborne dust and contaminants. The reusable mattress contains no water or gel, eliminating any leakage concerns. Another benefit of KOALA, energy consumption is dramatically reduced (only 75W compared to 1550W).

SAFE, DURABLE AND EASY TO MANAGE
KOALA Warming System is safe for use with all patient populations including neonates and pediatrics. The maximum temperature setting is 40oC / 104oF. As a conductive warming system, the transfer of warmth at this temperature is required to maintain patient normothermia. KOALA's built in thermistor reflects the temperature of the mattress at all times and ensures an accurate, reliable temperature setting.
KOALA Warming System is built for durability and with proper use and care, can last for five+ years. The latex-free mattress cover is composed of a soft, yet durable nylon fabric, coated in polyurethane for protection against environmental factors. All seams are welded to further ensure long life and improved infection control.
KOALA is easy to maintain with wipe-down disinfection procedures that saves set-up time between procedures. Low power consumption allows the system to be left on continuously.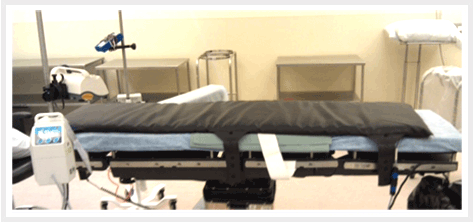 KOALA SAVES MONEY $$
Significant cost savings are realized when comparing KOALA with disposable warming systems. Cost analysis reveals 50% savings in the cost of disposables in the first year after purchase, 100% savings in subsequent years.
NOVAMED USA offers two alternatives to take advantage of the benefits of KOALA Warming System. Choose from: KOALA as a capital purchase or sign on for KOALA 36 Month Warming Service Program. Both provide significant savings – with the added benefit of warming each and every patient that enters the OR with no additional cost. Reusable and energy efficient, KOALA eliminates costly disposables, storage, and waste.

The Benefits of Koala Patient Warming
ClinicaLly Effective

Utilizes patented SCIP approved conductive thermal technology.
Provides complete patient access.
Minimizes risk of infection from airborne contaminants.
Provides enhanced pressure relief for improved patient comfort.
Silent in operation. Eliminates sound distraction from noisy forced
air systems.
X-Ray and radio translucent.
Durable mattress cover allows for easy wipe-down disinfection
between patients.
Temperature settings available in
°C: 37°, 38°, 39°, 40°
°F: 99°, 100°, 102°, 104°



Cost efficient

Reusable. Provides guaranteed annual savings over disposable
circulating water and forced air systems.
Eliminates costly storage and waste disposal.
Low power consumption reduces energy costs.
Eliminates setup time between procedures.

Eco
Friendly

100% Reusable. Eliminates medical waste.
Energy Efficient
Requires only 75W compared with 1550W used by forced
air systems.
Silent in Operation – Noise Free.