Engineered for Maximum Light Output in the MRI
To afford clinicians a solution for safe intubations within the magnetic resonance (MR)environment, NOVAMED USA presents NOVALITE MRI Conditional Laryngoscopes.
Engineered with high-powered Lithium XENON light technology, NOVALITE MRI Conditional Laryngoscope handles meet FDA mandated ASTM and Class 2 laryngoscope device specifications and are Certified MRI Conditional up to 3.0 Tesla
High Quality Construction
NOVALITE MRI Conditional Fiber Optic handles are built to last with a polished finish to ensure durability and long life. Textured surface provides a comfortable grip to prevent slippage for enhanced safety in the MRI Suite.
High intensity XENON bulb provides ultra bright, white light with 10 continuous hours of reliable light output.
Certified MRI Conditional up to 3 Tesla.
Handle is lightweight (11 oz. with Lithium battery).
Compatible with all ISO 7376 (Green System) blades.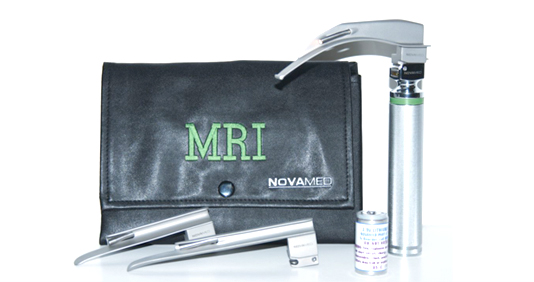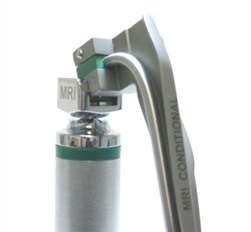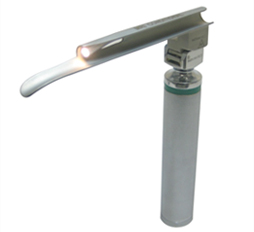 MRI CONDITIONAL FIBER OPTIC LARYNGOSCOPE HANDLE
Green System
15 – MRI – HMED - 1
MRI Fiber Optic Laryngoscope Lightweight
Medium Handle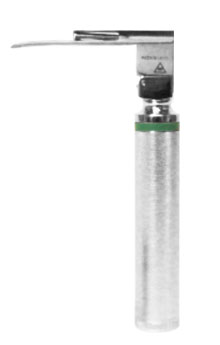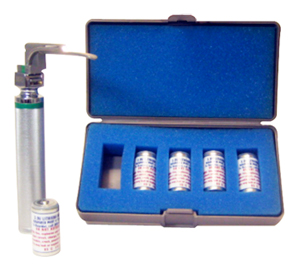 NOVALITE MRI Conditional Laryngoscopes are powered by a single low magnetic signature 3.9V Lithium battery for MRI suite safety. Batteries come with travel / storage case to prevent damage for improved risk management.
MRI CONDITIONAL FIBER OPTIC LARYNGOSCOPE COMPONENTS

| | |
| --- | --- |
| 15-MRI-LI-1 | MRI Conditional Lithium Battery |
| 15-MRI-LICA | Lithium Battery Travel / Storage Case (included with battery) |
| 15-800-MRI | MRI Conditional Laryngoscope Storage Pouch |
| 14-700FO-03-06 | Fiber Optic Ultra Brite 3.5V Xenon Bulbs (6/pack) for MRI Handle |
NOVAMED USA Recommends:

Keeping spare 3.5Volt XENON Bulbs on hand for each MRI-Suite location. These MRI Compatible Bulbs are proprietary for the NOVALITE MRI Conditional Handle (order by pre-pack / 6 bulbs).


Having spare Lithium Batteries for each MRI Conditional Fiber Optic Handle. The handle requires just one lithium battery. Store replacement batteries in the protective storage case.